The Zionist Criminal Mind and the Murder of Innocents in the Middle East
UPDATED: August 9, 2015
It is the Zionist criminal minds which are responsible for the mass murder of innocents in the Islaamic Middle East. Even if that murder is achieved by US and British agents, still, the motive force behind this is the hedonistic, murderous, blood-lusting Zionist vile ones.
Continuously, it is hunting season on the people of Islaam, who can are killed with impunity. Furthermore, regarding all the plots against these largely defenseless innocents it is the Zionists are fully responsible for the slaughter and debauchery which results.
The degree of the slaughter is extreme, so much so that it is impossible to measure the count. No one can even accurately estimate the number of people killed and wounded, let alone those displaced, as a consequence of Zionists machinations. They are the enemy of this human race, including the teeming masses of the Islaamic people, and let there be no doubt about this.
In this case the Zionists, vile and corrupt that they are, caused this Muslim child's head to be blown off, for too graphic for the world to see in its horrid detail:
Can anyone fathom the degree of extreme corruption of the Zionist, that this hedonistic one would selectively murder the children with glee and give no consideration of it. Rather, such a terminally vile one would relish in it lusting in it to the extreme to the degree of even celebrating the mass killing of defenseless people, including women and children:
Meanwhile, what does the Zionist do? He/she fakes it, fabricating it as if the real victim is the Zionist Jew, falsifying grief, injury, death, and far more:
Filthy Jewry is wretched beyond comprehension, let there be no doubt about it.
In the epitome of corruption the Zionists distract the world with fakes and frauds, absolute hoaxes and arch-schemes, while simultaneously creating great debauchery in the land:
In this instance in Tal Afar, Iraq, a child's parents were slaughtered by so-called American troops, while she was wounded, though survived. There were five children in the car, all of whom were orphaned. How can anyone even begin to determine the degree of such a vile, criminal act?
#
What an arch-file plot it is, all to conquer the nation's great wealth potential:
The war plot was based on an arch-scam perpetrated by the Zionists through their fake Islamic attack on 9-11. The cowardly 'troops' shot dead two people in the front seat of the car; that happened to be both the mother and father:
The terror that they caused to this family of children and all of their relatives; who can estimate its degree? Does not the look on the face of the daughter, now orphaned, tell all, as she cries in agonizing despair, the blood of her now deceased parents splattered on her face? Then, who, in fact, are the real terrorists of the most extreme degree?
Yet, it must always be emphasized that the ultimate perpetrators are the Zionists and their collaborators. It is they who are responsible for this to such an unfathomable vast degree, such a vast and unmeasurable degree of treachery. It is they who plotted to drive the Western military systems into the Middle East in order to perpetrate conquest on behalf of arch-Zionist machinations.
The Americans at least come back from the Jewish-orchestrated wars and often-times realize the nature of their acts, even ultimately fighting against the Zionists by leading anti-war groups. They could never possibly match the treachery, criminality, and cowardice of the scheming minds of the arch-treacherous, psychopathic Zionist Jews, who truly are cowards and brutes to the extreme:
Who other than an arch-Zionist coward would cut-down middle-age or elderly women during a protest, killing and wounding them?
Who can doubt their treachery and bully-like nature, mere thugs and ruffians, who prove their nature by their hideous, terminally wretched acts?
By no means are these arch-hideous ones ever held responsible for their bloodthirsty acts. Yet, here, surely, the ultimate, extreme criminal minds can be revealed, even named, that is precisely the ones who are behind this brutal slaughter of the innocent: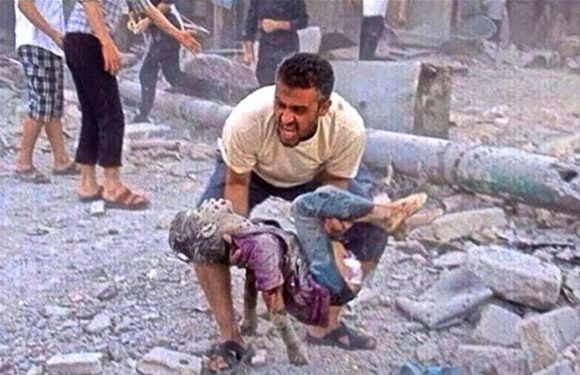 The Zionists are a crime syndicate, a realm of vile, hedonistic, hideous ones: cowards and criminals all. Regarding their vigilante mobs who go about brutally attacking those who have no defense, their chants and statements are well-known, even to fellow Israelis:
According to Israeli blogger Elizabeth Tsurkov, the mobs' favorite chant is: "Tomorrow there's no school in Gaza, they don't have any children left" and "Kill Arab children so there won't be a next generation," or "Stinking Arabs may you die, amen," and "Arabs may you be paralyzed and die with great suffering" are some representative tweets exposed by Israeli journalist David Sheen.
***
So, thus it is, they have no inhibition, these arch-Satanic ones, these worshippers of all that is vile, to slaughter whoever they may. In this case as a result of American-made or -financed Zionist bombs this dear little one, this Palestinian Muslim, lost her arm, while her entire abdomen was blown open, contents spilling on the operating table. Then, who are the real terrorists other than the Zionists, the inventors of terror acts against defenseless, unarmed people, including mere infants and children?
Let it be known all over this entire world. There is nothing more wretched, more vile, more terminally wicked, than the arch-criminal and exceedingly murderous Zionist mind. Within this realm is included the following individuals, all of whom are responsible for the vast slaughter of the innocent, including the senseless, vicious murder of children:
Bibi Netanyahu
Shimon Perez
Ehud Olmert
Ehud Barak
Barak Barak Obama
Henry Hines Kissinger
David Rockefeller
the Rothschild clique
former President Bill Clinton
former President George Bush
Douglas Feith
Dick Cheney
Elliot Abrams
William J. Bennet
Madeleine K. Albright
Max Boot
Elliot Cohen
Thomas Donnelly
Frank Gaffney
James B. Steinberg
Stephen P. Rosen
Robert Kagan
William Kristol
Richard Perle
Paul Wolfowitz
James Woosley
Dov Zakheim
Rita 'Arch-Zionist' Katz
Robert Zoellick
…among countless other arch-murderous, psychopathic, and blood-thirsty criminals.
Sources:
http://news.bbc.co.uk/1/shared/spl/hi/picture_gallery/05/middle_east_shooting_in_tal_afar/html/10.stm
http://www.veteranstoday.com/2014/08/01/sociopaths/comment-page-1/
http://crushzion.k0nsl.org/yellow-bellied-coward-enemy-jews-use-innocent-arab-children-as-human-shields/
http://www.publiceye.org/pnac_chart/pnac.html
Share
(17) Readers Comments